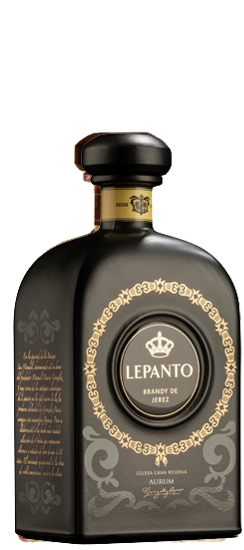 Lepanto Aurum

The world's most exclusive brandy
Lepanto is a unique product as it is the only Brandy de Jerez produced 100% in Jerez from the Palomino variety. Only the best Palomino musts are used for the production of Lepanto, the mosto yema, the first musts taken from the pneumatic Wilmes presses. Limited edition of 200 bottles.
Elaboration
In the quiet of the San Manuel cellar in González Byass Jerez where the first Lepanto casks saw the light of day, 6 specially selected Lepanto Aurum casks are aged for more than 30 years. The Palomino Holanda is aged in casks that have previously contained dry Olorosos and vintage sherries following the traditional Solera system unique to Jerez. The ideal conditions of temperature and humidity of the cellars in Jerez combined with the excellent Holandas and seasoning of the casks produce this exceptional Brandy de Jerez.
Variety100% Palomino fino
Tasting notes
appearance
Lepanto Aurum is an authentic premium brandy which shows a dark mahogany colour with intense gold and copper tones due to its extended ageing in cask.
palate
On the palate elegant and smooth with a clean and pleasant aftertaste.
aroma
On the nose intense, fragrant and complex with full aromas of fine wood, balsamics and toasted notes and a melting pot of dried fruits and nuts.
Pairing
Lepanto Aurum is an authentic gem which should be meditated and enjoyed in a good brandy glass on its own.