Your Sherry Hotel in Jerez de la Frontera
Nochevieja en el Hotel Bodega TIO PEPE
Reserva ya tu nochevieja más especial en el Hotel Bodega TIO PEPE. Incluye habitación, cena de gala, espectáculo de humor y magia, uvas de la suerte, brindis especial, servicio de copas…. Y a la mañana siguiente desayuno especial año nuevo.
Información y reservas: infohotel@tiopepe.com o en el teléfono 610 580 481
Soak up the Tío Pepe experience
Manuel María González founded his first Tío Pepe solera 185 years ago. Today, after 5 generations devoted to sherry, Hotel Bodega Tío Pepe is opening its doors.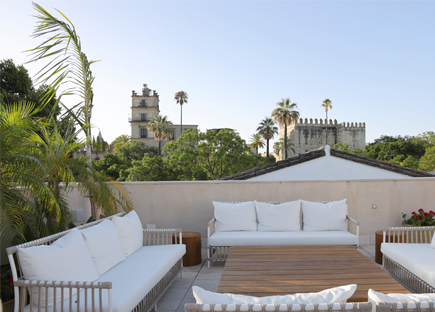 The World's First Sherry Hotel
An experience that invites you to immerse yourself in the culture of sherry and sherry brandy with one of Spain's most emblematic brands: you can trace the history of this family-run winery, explore its values, culture, and traditions, and discover little-known details and exclusive products. 
Integrado dentro de las Bodegas Tío Pepe

El conjunto monumental bodeguero que desde el siglo XIX produce el inigualable Tío Pepe: una marca que es historia viva de nuestro país.

Espacio con 150 años de antigüedad

Un edificio recuperado formado por 4 casas que antiguamente fueron el hogar de los trabajadores de la bodega.

Un enclave único en Jerez

Rodeado de calles emparradas y patios andaluces, el hotel se levanta en pleno casco histórico, frente al Alcázar y la Catedral de Jerez.

Una experiencia enológica y cultural

Disfruta de una oferta diseñada específicamente para nuestros huéspedes que te hará vivir Jerez con los cinco sentidos.
Our facilities
The hotel offers modern, comfortable facilities and state-of-the-art amenities. Relaxed, comfortable, and welcoming areas, and fantastic services from staff who are on top of every last detail to make sure your stay at Hotel Bodega Tío Pepe is an unforgettable experience. 
Rooms and suites
Spacious, comfortable, and elegantly decorated spaces that adapt to your needs and lifestyle: stay in our fully equipped rooms and exclusive suites with views of the old town and Jerez's most iconic landmarks.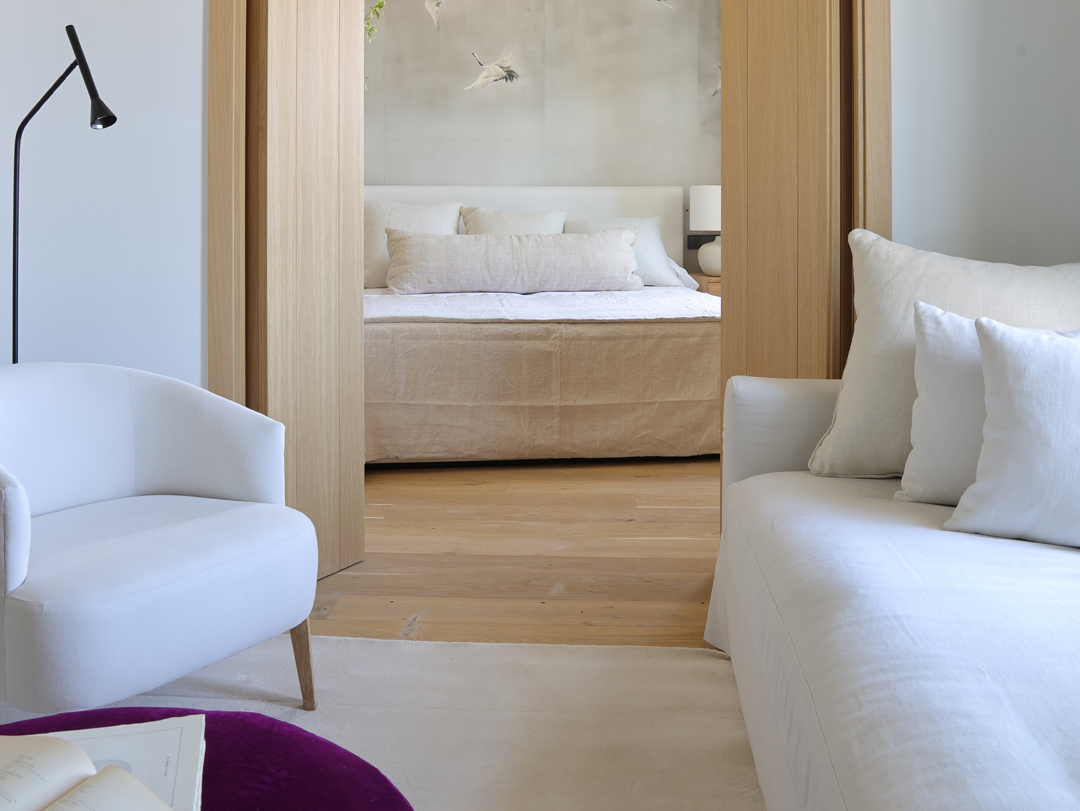 Suite Presidencial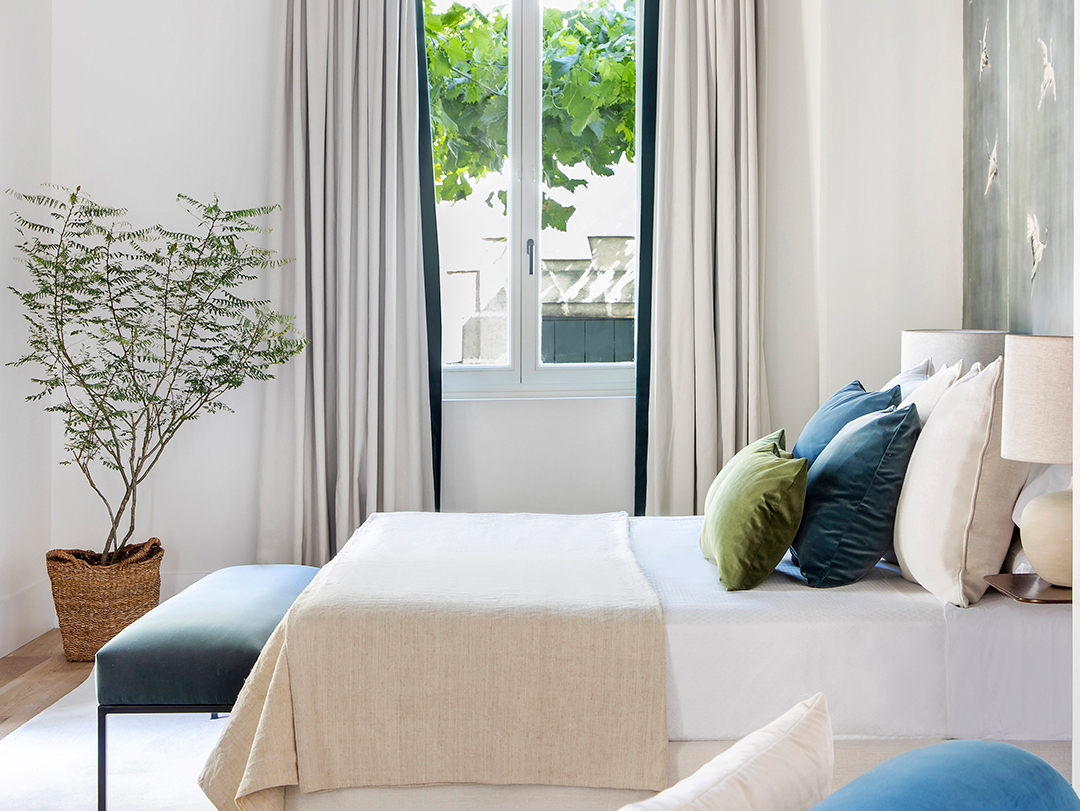 Suite Junior Superior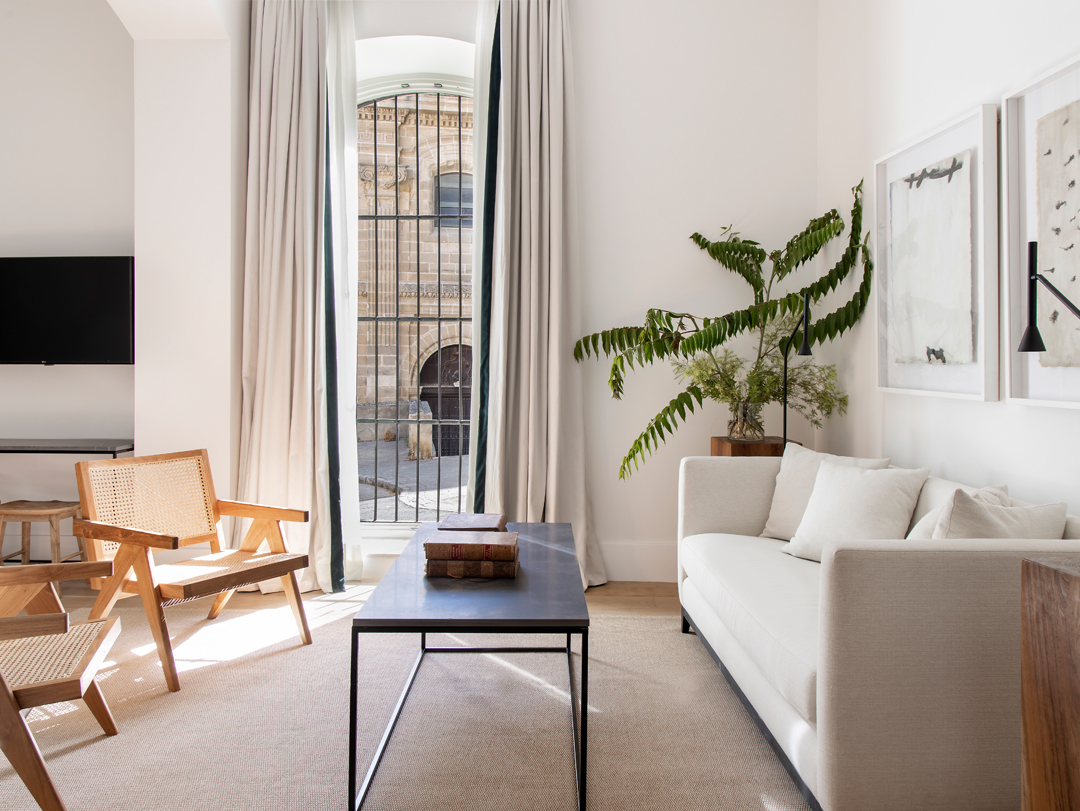 Suite Junior
Suite Junior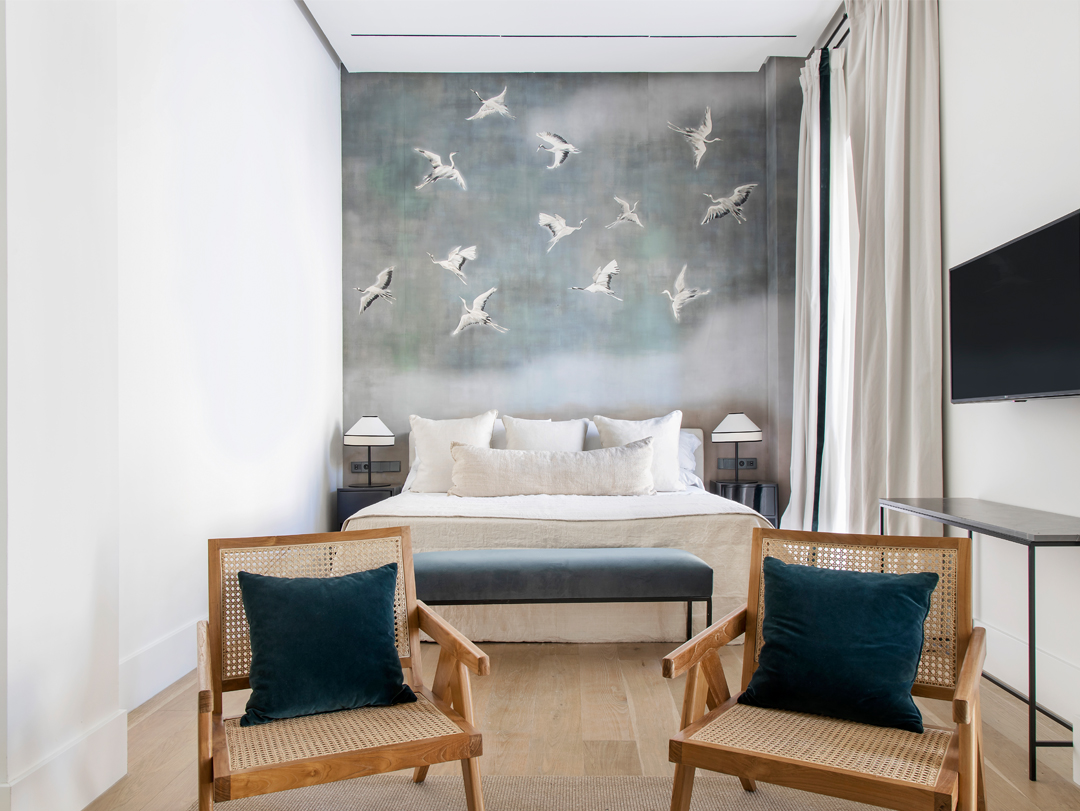 Suite Junior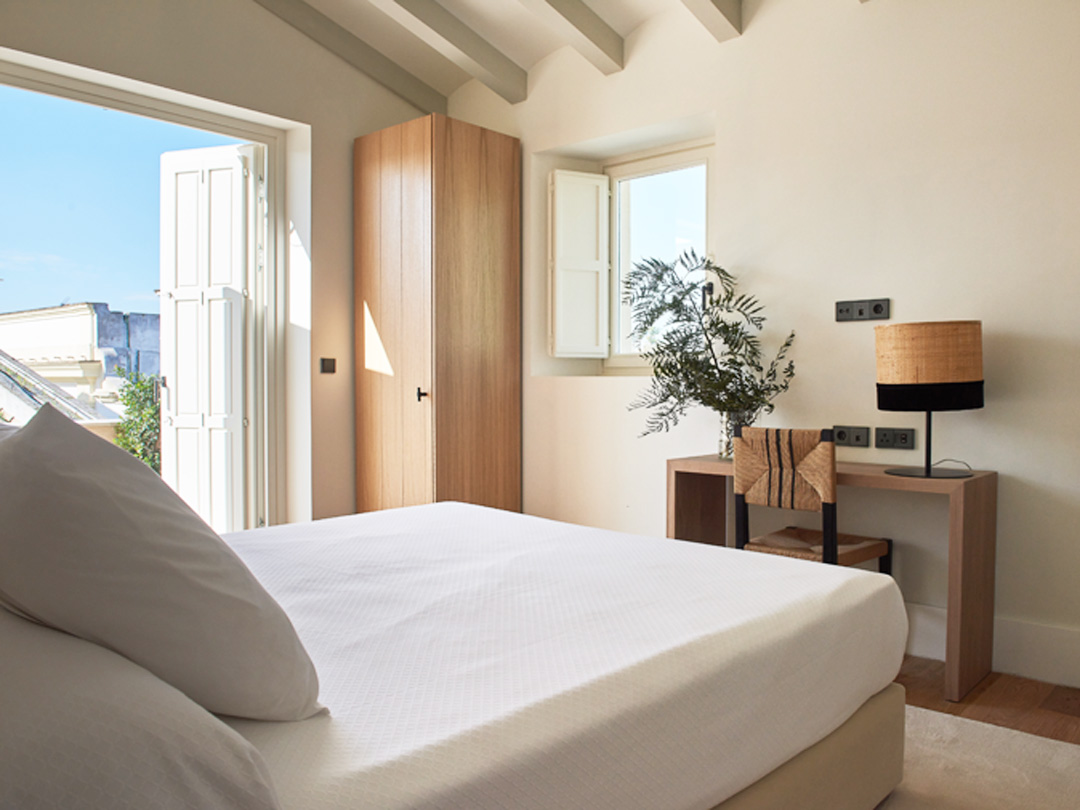 Habitación Deluxe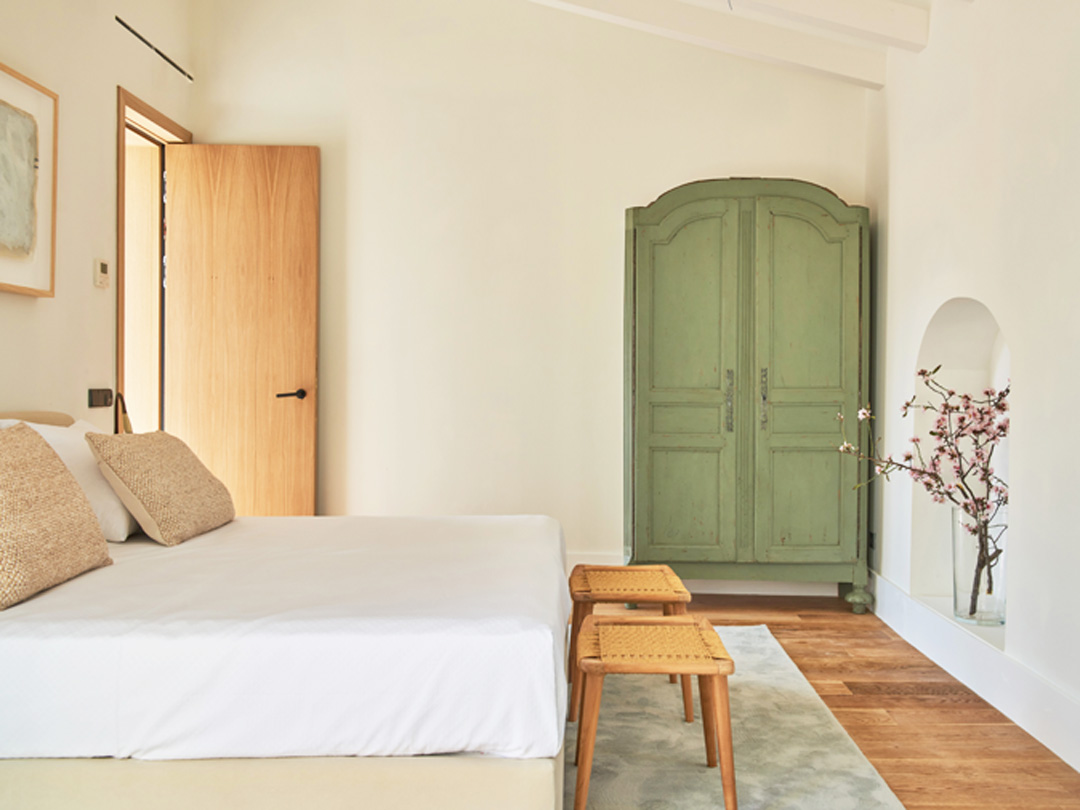 Habitación Deluxe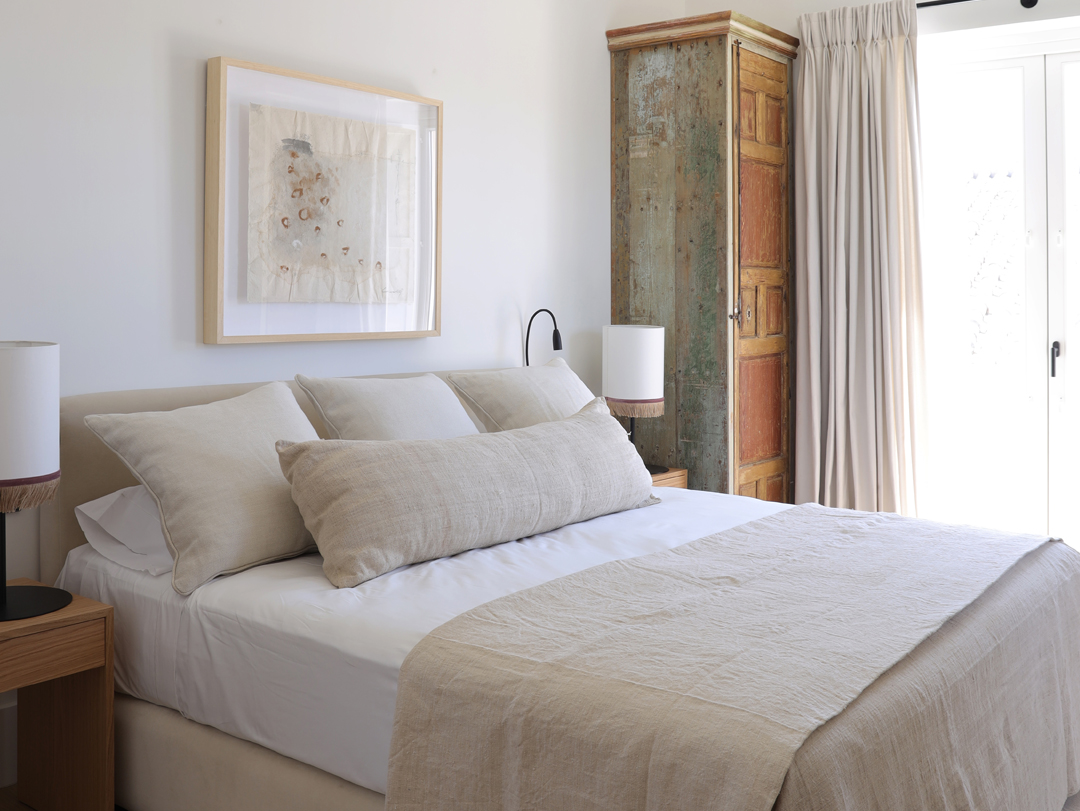 Habitación Deluxe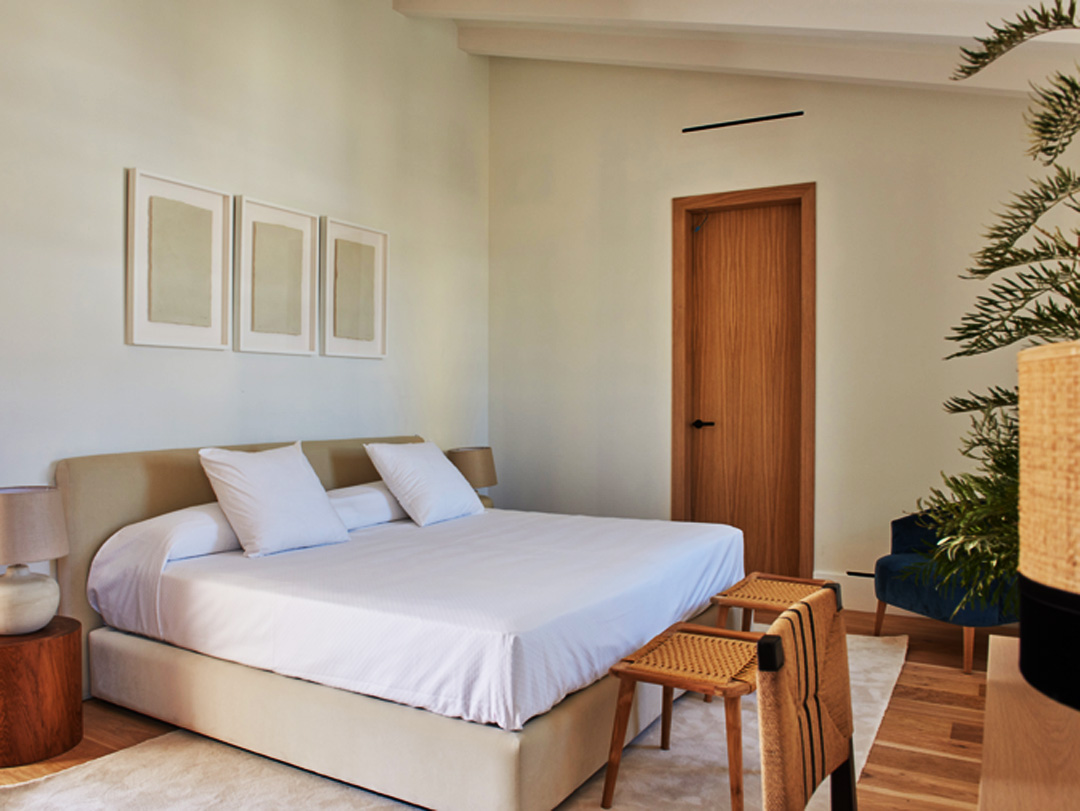 Habitación Premium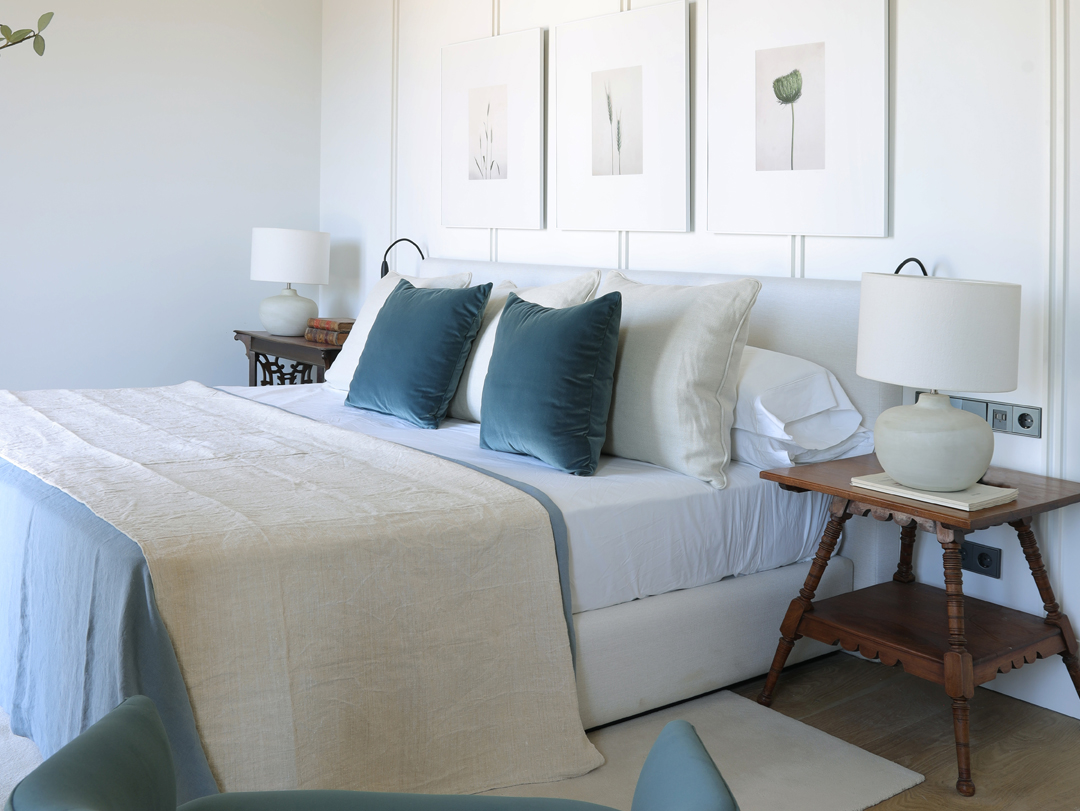 Habitación Premium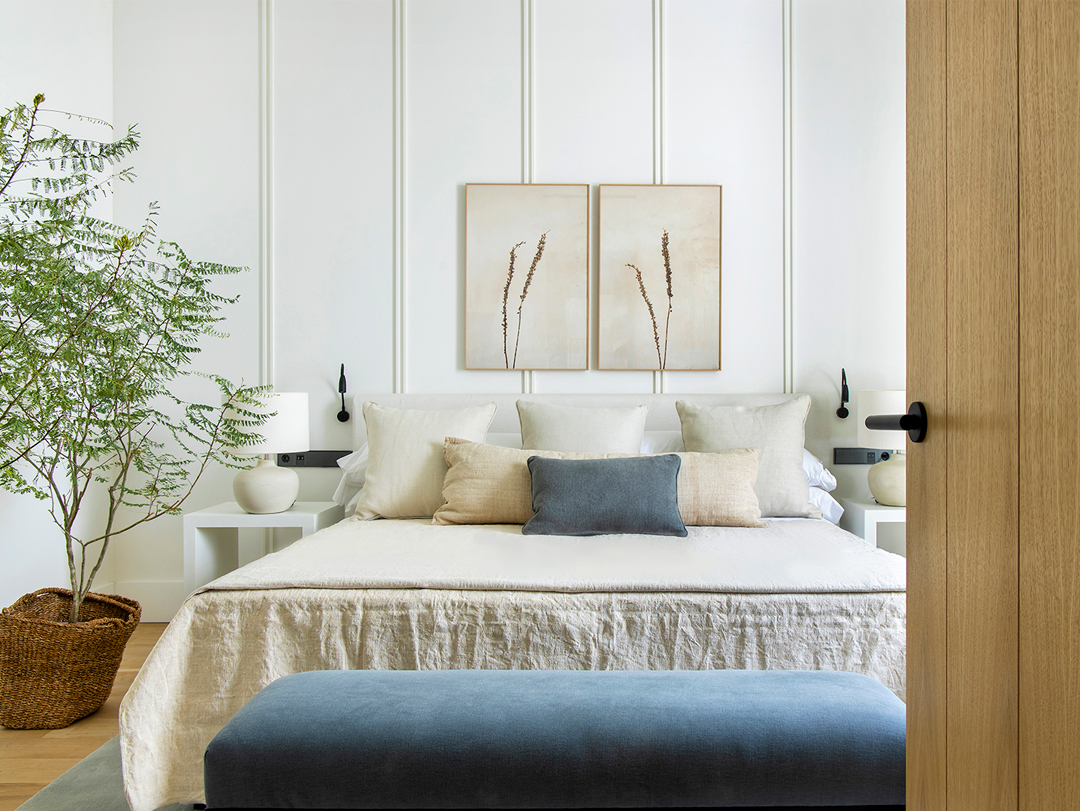 Habitación Premium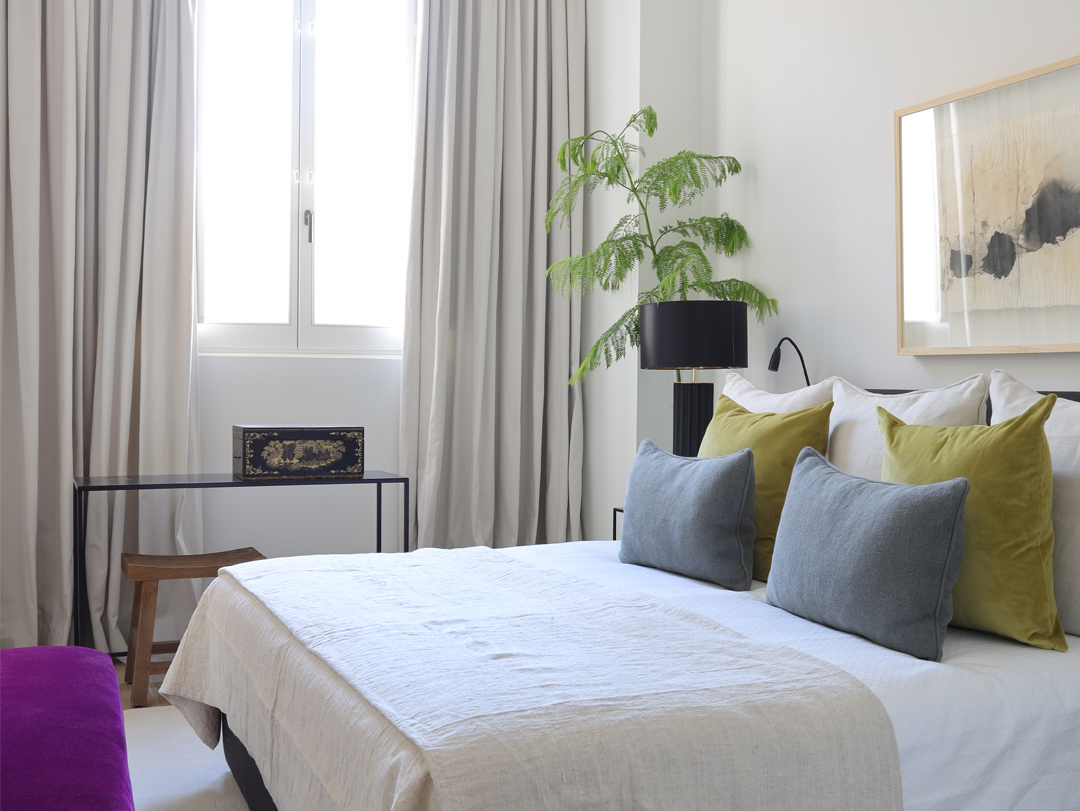 Habitación Clásica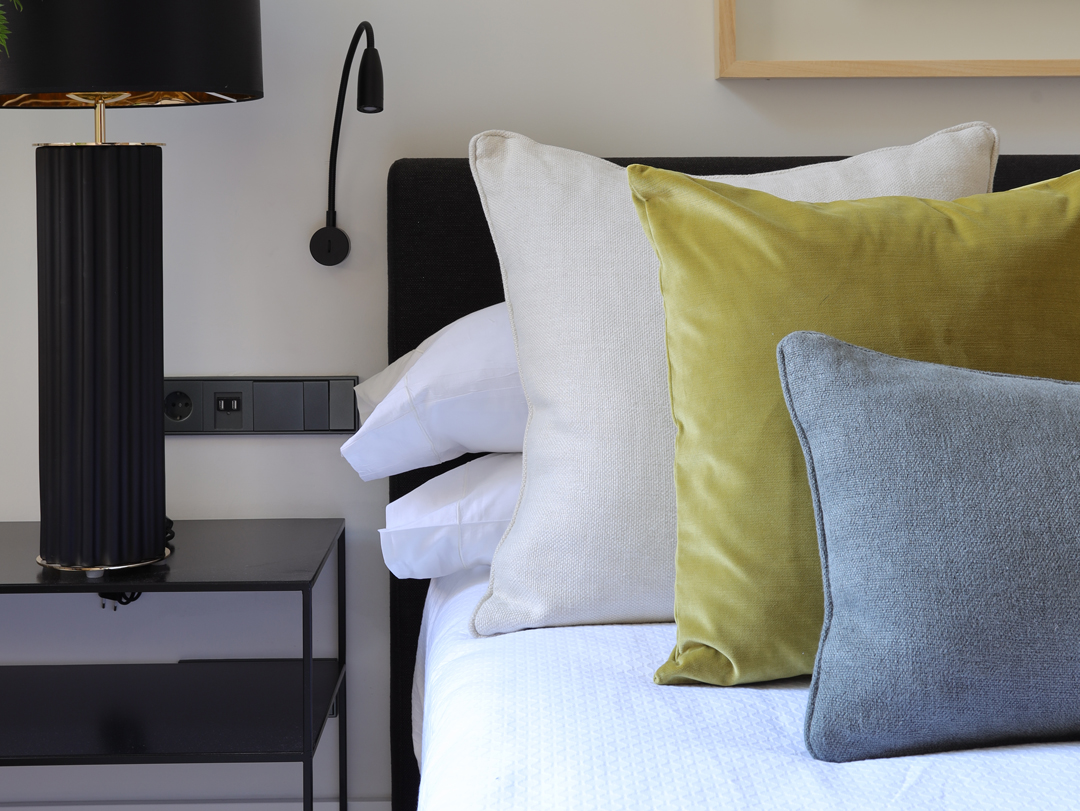 Habitación Clásica
Services
Book your stay and enjoy these and many other services: 
24/7 service

Wi-Fi network

Luggage service

Ironing, shoe cleaning, and luggage unpacking and packing service. 

Public car park

Vehicle rental

Cars, bicycles, electric scooters. 

Air conditioning

Book activities

and experiences at Tío Pepe Wineries. 
FAQs
These are the questions they ask us the most about our facilities.
¿Quieres conocer nuestras medidas frente al Covid-19?
En Hotel Bodega Tío Pepe la excelencia en el servicio y la seguridad en nuestras instalaciones son nuestra máxima prioridad. 
Somos conscientes de que nuestra actividad y la seguridad y la salud de nuestros huéspedes, empleados y proveedores, han de ir de la mano, y es responsabilidad de todos cumplir las medidas de seguridad e higiene necesarias para reducir el riesgo de contagio.
Entre otras, aplicamos las siguientes medidas de higiene y prevención frente al COVID-19:
- Hemos establecido protocolos que regulan los accesos de entrada y salida y la estancia en nuestras instalaciones para evitar aglomeraciones y garantizar la distancia seguridad
- Animamos a nuestros huéspedes a realizar, preferentemente, las gestiones de registro y facturación a través de nuestro servicio online. No obstante, nuestro equipo de Recepción siempre estará disponible para quienes deseen registrarse y facturar en Recepción, así como a disposición de todos nuestros huéspedes, para recibirles y ofrecerles desde su llegada y durante toda su estancia, una atención cercana y personalizada.
- Tenemos establecidos protocolos para la limpieza y desinfección diaria de nuestras instalaciones que llevamos a cabo a través de proveedores certificados.
- Encargamos el cuidado, la limpieza y desinfección de nuestros textiles a proveedores que cuentan con la certificación UNE-EN 14065, Sistema de Control de la Biocontaminación para textiles tratados en lavandería.A la llegada hacemos entrega a nuestros huéspedes de un kit higiénico-sanitario para su protección, así como de información detallada sobre los protocolos y medidas de higiene y prevención destinados a velar por su seguridad durante su estancia en nuestro Hotel.
- Todo nuestro equipo ha recibido formación e información específica sobre las medidas de higiene y prevención aplicables y disponen del material necesario que les permite desarrollar su trabajo con las garantías de seguridad y salud necesarias.
- Exigimos a todos nuestros proveedores el cumplimiento de las medidas de higiene y prevención que corresponden a su actividad y, en el acceso y durante su estancia en nuestras instalaciones, el cumplimiento de nuestros protocolos y políticas de seguridad e higiene.
En definitiva, trabajamos para que nuestros huéspedes se sientan seguros y tranquilos mientras estén con nosotros.
¿A partir de qué hora se puede ocupar la habitación el día de llegada?
La entrada al hotel es a partir de las 14 h.
¿A qué hora se debe abandonar la habitación el día de salida?
La salida del hotel es hasta la las 12 h.
¿El Hotel dispone de aparcamiento?
Debido a sus especiales características arquitectónicas del edificio, cuyo origen se remonta a mediados del siglo XIX, el hotel no dispone de aparcamiento propio; pero colaboramos con el Empark del Alcázar de Jerez, que ofrece tarifas especiales para nuestros clientes previa muestra de reserva: bono de 2 días por 18 €. Para estancias más largas se añade un incremento de 9 €/día.
¿A qué distancia se encuentra el aeropuerto más cercano?
El Hotel Bodega Tío Pepe se encuentra a sólo 13 km del Aeropuerto de Jerez.
¿El Hotel dispone de servicio de transfer al aeropuerto?
Disponemos de servicio de taxi de alta gama para recogidas y traslados al aeropuerto: desde el aeropuerto de Jerez 20 €. Desde el aeropuerto de Sevilla 150 €. Para más información puedes consultar con nuestro personal de recepción.
¿A qué distancia se encuentra la playa más cercana?
A solo 15 km del hotel encontrarás la Playa de Valdelagrana, en el Puerto de Santa María.
No, las únicas mascotas que aceptamos en el hotel son los perros lazarillo.
Únicamente en los balcones de las habitaciones, el jardín y las terrazas. Las zonas comunes interiores del hotel son espacio sin humos en cumplimiento de la ley 7/2010 que regula la Prohibición de fumar en lugares públicos.