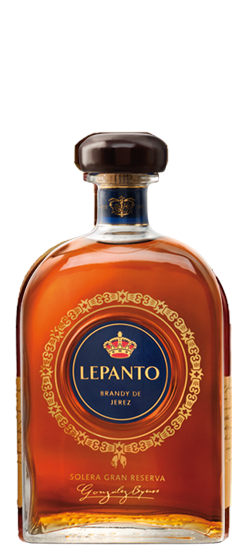 Lepanto Gran Reserva

Lepanto is a unique product as it is the only Brandy de Jerez produced 100% in Jerez from the Palomino variety. Only the best Palomino musts are used for the production of Lepanto, the mosto yema, the first musts taken from the pneumatic Wilmes presses.
Elaboration
VarietyPalomino Fino 100%
Alcoholic content36% vol.
Tasting notes
appearance
It shows a bright topaz colour with orange and golden tones.
palate
On the palate dry and delicate with touches of toasted almonds from the Tio Pepe casks and raisins from the Matusalem casks.
aroma
On the nose delicate aromas of caramel and vanilla , toasted notes and hints of wine due to the time spent in cask.
Pairing
This is a brandy to be meditated in a glass of brandy.