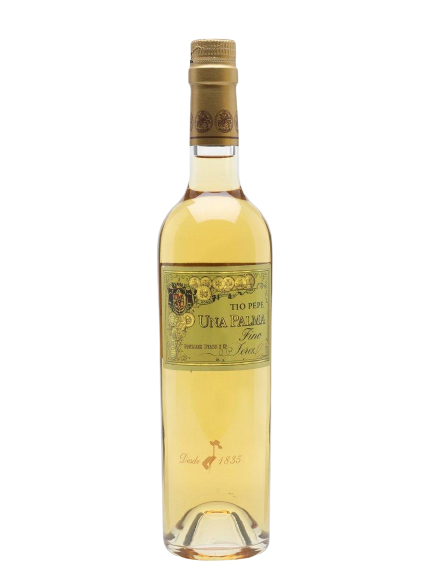 Tío Pepe Una Palma


Fino Sherry
Careful selection of just 3 casks of 6 year old Fino
The Macharnudo and Carrascal pagos express the best of our soils in this intense, salty and flavour some Fino.The Solera, with over 6 years of biological ageing, is made up of a total of 139 casks, from which number 79, 95 and 96 were selected, all found on the second floor of the Gran Bodega Tio Pepe.
Elaboration
Variety100% Palomino fino
Alcoholic content15.5 % vol.
Tasting notes
appearance
Yellow in colour with golden shades, clean and bright.
palate
On the palate, the wine is fresh, salty and tasty. The finish is persistent and balanced, reminding us of salt, hazelnuts, yeast and green olives, with a dry and slightly bitter aftertaste.
aroma
The wine is showing light legs, an intense and powerful nose which reminds us of the veil of the flor, chalk, dried fruits as well as citric, salty and mineral notes.
Pairing
An ideal wine for aperitives, but also to be enjoyed with fish, rice and pasta dishes. It pairs perfectly with different kinds of food and it enhances the flavours of the Asian cuisine.This wine should be enjoyed chilled in a long and thin wine glass.Suitable for vegans
Rice and stews


Asian food