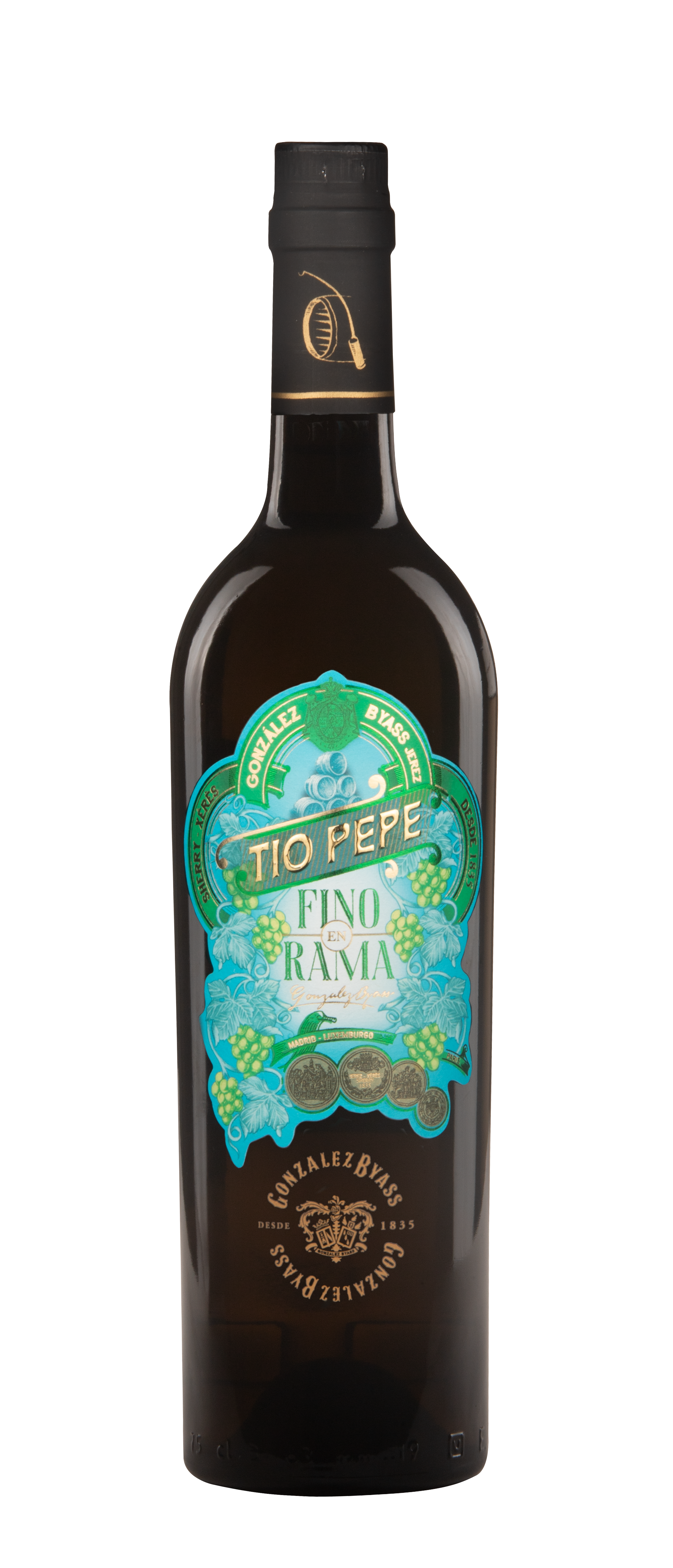 Tio Pepe en Rama


Fino Sherry
Tio Pepe without filtration nor clarification
TIO PEPE Fino en Rama is the maximum expression of biological ageing; Tio Pepe without filtration or clarification, taken directly from the barrel in Spring when the 'flor' growth is at its thickest. Due to the uniqueness of this product it is produced in very small quantities and it is best drunk within 3 months of bottling. 'En Rama' is the local jargon used by winery workers to refer to wine in its unrefined and most delicate state, prior to the normal stabilization, clarification and filtering processes. 'En Rama' expresses the unique character of Jerez: the penetrating aromas of the cellars and the intensity of the 'flor', the yeast which interacts with the wine giving its unique and delicate character.
Elaboration
Tio Pepe is produced from the Palomino Fino grape variety grown in the chalky 'albariza' soil of Jerez. The unique ageing system of Solera and Criaderas contributes to its remarkably consistent quality. It is aged under a protective covering of fresh, naturally occuring yeast, 'flor' for a minimum of 5 years in the quietness of the cellar.
Each year we delve into our extensive archives to find an historic label that represents the sense of place and history encapsulated by this pure expression of Tio Pepe.
Variety100% Palomino Fino
Alcoholic content15% vol.
Tasting notes
appearance
A bright, vivid golden colour
palate
The character of the Macharnudo area is reflected in the saltiness of the wine, which is also elegantly bitter on the finish.
aroma
Tío Pepe Fino en Rama 2018 is fragrant on the nose with instantly recognisable notes of bread and fresh yeast.
Pairing
Prior to consumption, the Tio Pepe Fino En Rama should be kept in a room where the temperature is relatively stable (ideally around 10°C-12°C). The wine is likely to throw a deposit or sediment. Cloudiness from the very fine particles of yeast will settle after a couple of days and should not impair your enjoyment of the wine.