Viña AB


Amontillado Sherry
Viña AB is a very young amontillado that has been able to experience two types of aging, biological and oxidative, with a minimum of 12 years in American oak boot following the traditional Solera system.
Elaboration
VarietyPalomino Fino 100%
Alcoholic content16.5% vol.
Tasting notes
appearance
Due to the contact with oxygen it has taken on a light amber colour
palate
On the palate Viña AB shows subtle notes of oak due to the 12 years spent in cask. Pleasant with a balanced acidity. Long aftertaste with slight saltiness and bitterness on the finish.
aroma
On the nose subtle and delicate with typical Palomino aromas of hazelnuts, and slight reminders of yeast due to its time under the flor.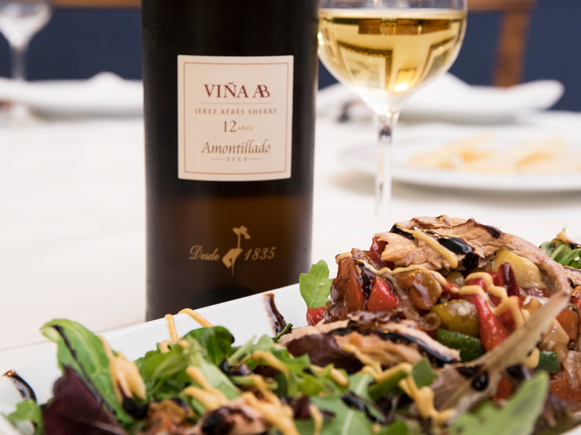 Pairing
Serve well chilled, 8-12 ºC, in a small white glass in order to appreciate the full bouquet of aromas.Viña AB is a complex wine which provides a unique versatility, matching even the most complicated dishes.Perfect with charcuterie, duck, consomé, hard cheese and nuts.