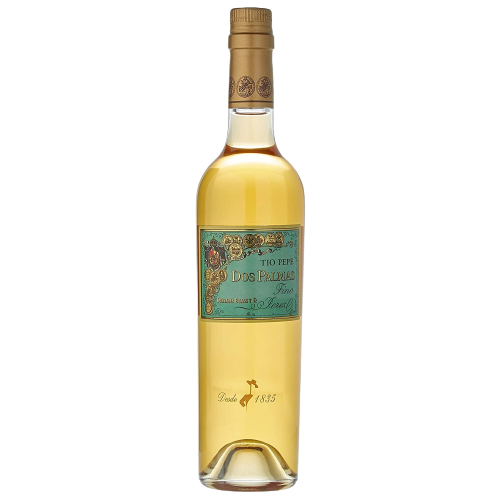 Tío Pepe Dos Palmas


Fino Sherry
Careful selection of just 2 casks of 8 year old Fino
The classification of the Fino Palmas collection 2019 has clearly been influenced by the climatological year. We had a mild and dry winter and a fresh summer and these circumstances have led to the Flor showing a significant yeast activity during winter and spring which it managed to maintain during the entire summer. The selected casks for Una and Dos Palmas are clear examples of how far the biological ageing can be taken, in these two Finos that are true examples of the two terroirs in Jerez; the vineyard and the winery.
Elaboration
Long biological ageing for this sublime Fino. The perfect balance between the soil and the Flor.Of the 148 casks that this Solera is made up of, casks 28 and 78 were selected. These were found on the second floor of the Gran Bodega Tio Pepe.
Variety100% Palomino fino
Alcoholic content17.7% vol.
Tasting notes
appearance
Golden colour with hints of amber. This wine is showing light legs.
palate
On the palate, the wine is both intense, salty and very flavourful, with a slight creaminess. The finish is impressive, it's round and balanced with notes of iodine, toasted almonds, aldehydes and dried flowers. Round and welcoming aftertaste that clearly marks the origin of the Albariza soil and the greatness of the biological ageing. The most pure definition of an old Fino.
aroma
t has a complex and very pungent nose, potent Velo de Flor, chalk and hazelnuts with floral aromas , salt and minerality.
Pairing
This is an ideal fino to be enjoyed with classic salad dressings, sausages and soft cheeses. Vegetables, white meats or grilled fishes will be perfect pairing for this wine as well, always served chilled and chilled in the best long and thin wine glass.Suitable for vegans